36w MarineReefLED - Par38 - QuadSpec V2
QuadSpec™
V2
Par38
Black Housing
Clear 60 Degree Lenses
6 455nm Blue / 4 10'000K White / 1 4500k Warm White / 1 420nm Fiji Purple / UV
Anodised Body
New Slimline Heatsink Fins
Plastic Driver Housing with vented body
Perfect Spectrum Mix - QuadSpec™ arrangement
Proven Spectrum growing mixture of all corals - Soft Corals, LPS & SPS!
This Par38 will light on average 12 * 12" area from 12" above the tank water.

*Note*
Do not cover the Heatsink in a hooded lamp - Remove to let heatsink aeriate - Due to high wattage this bulb must not be covered at any time.
This LED Light is NON-DIMMABLE - Do Not attempt to attach to a dimmer driver or control as this will instantly kill the driver and void the warranty.
LED Ratio: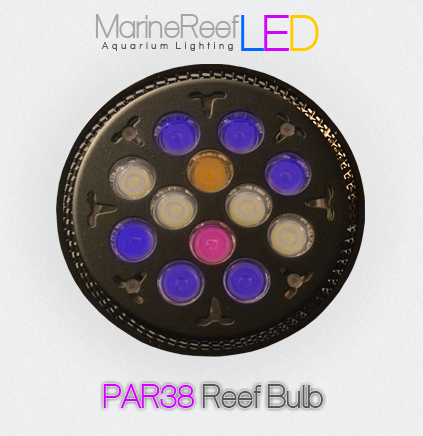 LED Integral Sphere Test: